10K/5K Information
Timing Chips
Toad Suck Daze Run will use chip timing technology to calculate results. Participants must wear a race chip to get an official race time. Race chip and packet pickup will be Friday, May 5, 2023 from 12:00 p.m. to 6:00 p.m. at Conway Regional Health and Fitness Center in Conway. Race packets will also be available on race day from 6:30 a.m. to 7:30 a.m. at Conway High School Fieldhouse. Registrants after 7:30 a.m. will not be timed.
T-Shirts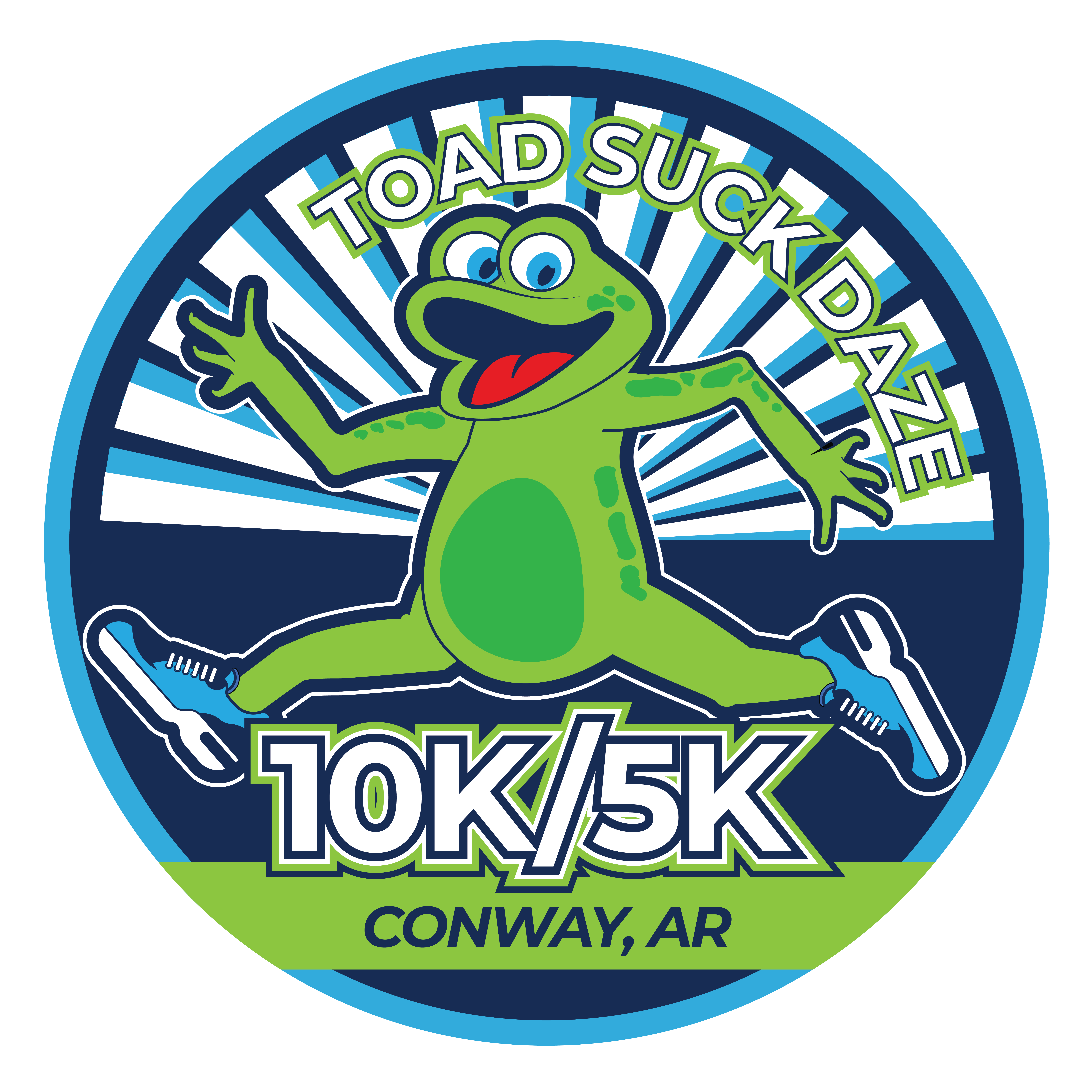 All registrants will receive a technical t-shirt with the Toad Suck Daze Run logo. Additional shirts are available for purchase for $15.00 each. Shirts are available in adult Mens and Womens sizes S – XXL. Youth sized shirts will be provided for all Tadpole Trot participants. These youth sized shirts are a 50/50 cotton blend and run small, so please order accordingly. Additional youth shirts are available for purchase for $10.00 each.
*Shirt sizes not guaranteed for packets picked up after 7:00 a.m. on race day.
Lineup
10K and 5K runners should line up based on their pace. All 5K fun walk participants should line up behind the 10K and 5K runners (back of the pack). Runners should expect a wave start, based on pace.
Results
Results will be available on arkrrca.com, arkansasrunner.com, macsrts.com and on this website. (Please no phone calls.)
Wheelchair Division
The wheelchair division will be held in the 10K ONLY. No regular wheelchairs will be allowed in the race (only racing chairs). All wheelchair participants must wear a helmet.
Showers
Showers will be available after the race in the old gymnasium across the street from the southwest corner of John McConnell Stadium. Soap and towels will not be furnished.
Strollers, etc.
Strollers, baby joggers, skateboards, bicycles, in-line skates and animals are NOT PERMITTED.